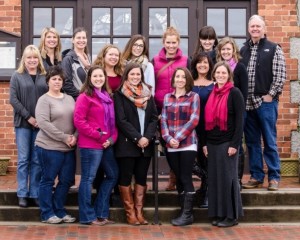 A New Year, A Fresh Perspective! This January, our staff visited the Biltmore Estate to attend a "Cultivating Change" workshop at the Biltmore Center for Professional Development. During this eye-opening session, Biltmore shared with us many changes within the history of their organization. They explained that while these changes were challenging, embracing them allowed Biltmore to stay ahead of the curve and therefore excel in their field.
Change in the dental world is very similar. Yearly, even daily, dentistry changes. Economic, social, and technological developments occur on a regular basis. We, at Gillespie Dental Associates, are excited about evolving and innovating with the times so we can continue to improve how we care for you! During our workshop, Biltmore pulled out all the stops to cultivate change in our office. We brainstormed, we drew graphs, we even danced (you can't take us anywhere! :)), all with the intention of embracing the changing world and keeping excellent patient care as our North Star.
Here you can see one of our groups, "The Dreamgirls" as they call themselves, hard at work…
These ladies sure came up with a lot of great ideas!
Wait, did they even coordinate their outfits??!
We are so proud of the strategies we developed during our morning with Biltmore and can't wait to continue partnering with you as leaders of dentistry in WNC.