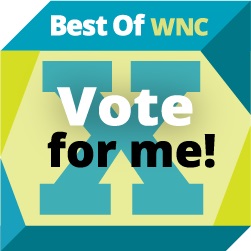 From the banks of the French Broad to the peaks of Craggy; from the valleys of Fairview to the hollers of Walnut Creek, the call is being sounded!  Each year, Mountain Xpress magazine calls upon the good citizenry of Buncombe County and its surrounding environs to make their voice heard and answer the question, "Who's the best?"
Our office has held the honor in the Best Dentist category for two years, but the competition will be stiff this year!  Will you help us maintain the top spot?
Simply go to http://vote.bestofwnc.com/388241 and vote for us.  You'll find us in the Health & Wellness category.  They ask that you vote for at least 25 categories in order for your vote to count.  Thanks so much for your help and cheers to your good (dental) health!