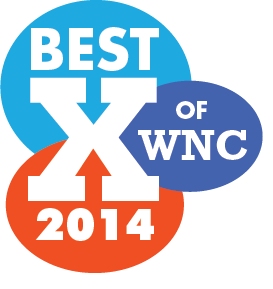 Each year, Mountain Xpress magazine asks their readership, "Who's the best?" in WNC.
Our office has won the Best Dentist category for three years, and if we win this year, we'll be placed in Mountain Xpress' "Hall of Fame"!  With your help, we can do it!  Will you help us maintain the top spot?
Simply go to http://vote.bestofwnc.com/  and write "Timothy E. Gillespie, DMD" in the Dentist section.  You'll find us in the Health & Wellness category.  They ask that you vote for at least 25 categories in order for your vote to count.  Thanks so much for your help and cheers to your good (dental) health!