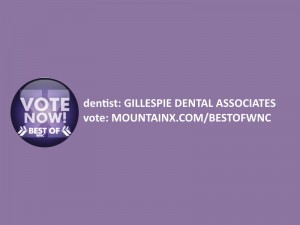 With your help, we reached Hall of Fame status in the category of Best Dentist in Mountain Xpress' Best of WNC Competition last year! Help us win again this year!
Please take a minute and go to http://mountainx.com/bestofwnc/ to cast your ballot!
Mtn. Xpress asks that you vote for at least 30 categories for the ballot to count, so be thinking about your favorite restaurant, physician, real estate agent, personal trainer, etc, as well.
A few helpful hints:  Click "Start Here" to register to vote.  You will then receive an email asking you to verify your registration by clicking on a provided link.  Once you do this, you will be taken to your ballot.  Simply press the "Start the Ballot" button and you're off and running!  On the upper left of the ballot, click on "Sections," then scroll down to "Health & Wellness."  Once there, find the "Dentist" category and enter "Gillespie Dental Associates," which will include myself, Dr. Peterson, Dr. Stephens, Dr. Deaton and my wonderful staff as well.  We would love it if you would click the "Share this vote on Facebook, Twitter" to publicize your vote, too!  Also, remember to visit the other Sections and vote for more favorites!  Once you're finished, click "Submit Ballot" at the bottom of the page!
Thanks so much for keeping us on top!