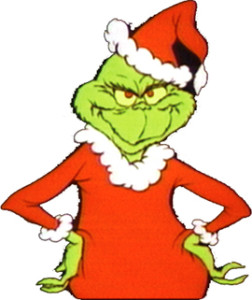 It's only a few days away, now.  Mere days until my staff becomes overly giddy and obsessed with the sights, sounds and smells of Christmas.  Mere days until the Jingle Bells, Silver Bells, and The Bells of St. Mary's raise the alarm for everyone to start Home For Christmas—be it White or Blue—and start burning Yule logs and mulled cider.
Of course, it's already started.  I mean, the Christmas stuff was out in stores almost as soon as the Back To School sales were over.  It almost took over the Halloween section—I lodged a complaint with the Equal Opportunity Commission since we dentists secretly underwrite the whole Trick-or-Treat thing—and it has definitely displaced any mention of Pilgrims in my house.  My kids actually think that we're giving thanks for the Black Friday sale to come—the turkey is kind of a sacrificial offering to the retail gods for a day of good deals.
Time to shrink the heart down two sizes.  And dust off the whip I'll use to mush my staff from here to New Year's like the Grinch with his long-suffering dog, Max.
But first, I want to give thanks to all the friends, family and patients who have been a part of my personal and practice life this year.  And in these trying economic times for our nation, it's uplifting to see—and know—a lot of great people out there doing everything they can to help make things better.  Thanks.
The world's getting ready to get a little crazier for a few weeks (is that possible?)  But I'll be humming Mele Kalikimaka the whole way.  Ah, It's A Wonderful Life, isn't it?