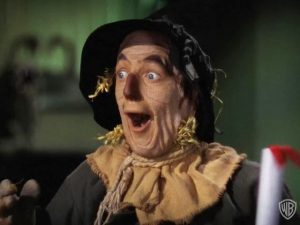 I'd unravel every riddle for any individual,
In trouble or in pain.
With the thoughts that I'd be thinkin',
I could be another Lincoln,
If I only had a brain.
–Scarecrow, The Wizard of Oz
Therefore, by virtue of the authority vested in me by the Universitatus Committeeatum E Pluribus Unum, I hereby confer upon you the Honorary Degree of ThD….Doctor of Thinkology!
–Wizard to Scarecrow, The Wizard of Oz
Thus spake the Wizard and thus it is so.  Just like the Scarecrow, I received a diploma recently.  But instead of a Doctor of Thinkology, I got a Master's in Business Administration.  Why, many people have asked me, do you need an MBA?  You've been in business for almost 25 years; don't you think you know how to run a business?  To which I answer, yes, yes I do!  But, I'm always looking for continuous improvement.  Formally honing my business skills in the changing landscape of healthcare has provided an interesting and intriguing way to improve my practice outside of the clinical arena and I'm so happy to have found some new tools to that end.  I've actually been applying new methods to our business operations from month one in the program and have been pleased with the results.  So, time well spent!  Or, in MBA-speak, the opportunity costs and monetary costs incurred in the venture were outweighed by the improvements in performance and throughput.  Dang, that made my brain hurt!