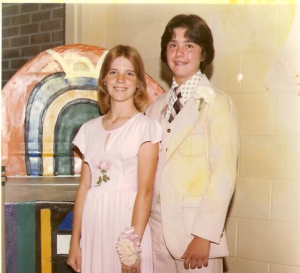 I know my eighth-grade prom is this weekend, but I was too shy to ask you before now.
I just picked you up in my brand new car—a Pinto!  We went to a movie and then got some ice cream.
I hid the engagement ring in a box of Russell Stover chocolates.  Though I can tell you saw it coming, the look on your face is so happy, it doesn't matter.
We're having breakfast in a Shoney's before heading out on our honeymoon.  It feels like the first day of the rest of my life.
I can't believe I'm helping decide on a washer/dryer combination, but I see it's important to you, so I'm doing it.
Today was the last day at your good-paying job in Birmingham, but if you'll just stick with my plan to open my own dental practice, I promise it'll be worth it.
I'm sleepy, but watching our first son being born is the most incredible thing I've ever experienced.
I know I'll feel guilty later for doing a large dental case before our second son's scheduled delivery, but you're being a really good sport about it.
It's amazing that watching the third of three sons head off to kindergarten still makes both of us emotional.
Did we actually just send a kid off to college?
This family vacation is costing me an arm and a leg, but our family dynamic is changing so fast, I know I'll never regret it.
It's our 25th wedding anniversary, and I'm looking at the picture of you and me at my eighth-grade prom…
It all seems like yesterday.  My, how time flies…when you only have 100 years to live.
Happy Anniversary, Betsy!