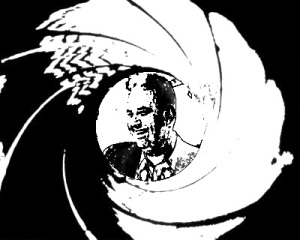 Watching the new Bond movie, Skyfall, the other day, I couldn't help but notice the obvious parallels between 007 and myself.
Okay, there are no obvious parallels between 007 and myself, but as I watched the movie, it was hard not to reflect (between high-powered action scenes) on some changes in the Bond world:  A new "M."  A new "Q."  A new "Miss Moneypenny."  New ways of conducting international criminality and espionage….but the same Bond.
Sure, he's still got the talent and the experience to get the job done, but he appears to be losing some of those cat-like reflexes, and may be at risk of slipping into irrelevancy.  Oh, well, things must change in the fast-paced world of dentistry, er, espionage, mustn't they? (Freudian slip?)
007 is aging—and so am I.  (Hey, there's my parallel!)  The Bond franchise is 50 years old—I turn 50 next week.
Bond didn't seem too happy about the changes going on around him, but I'm sure he'll land on his feet—he always does.  Me, I'm meeting this brave, new world head on—just like a James Bond ski chase scene—by staying abreast of new technology and staying relevant through continuing education and increased marketing efforts.  Starting the second half of my life is like embarking on a grand adventure (you only live twice), and for the next phase, I get to use the word, gravitas, a lot.
So, with a nod to the past and an eye to the future—here we go!