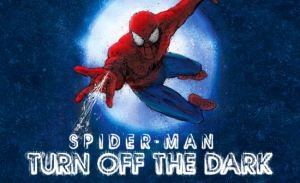 But it's not Spiderman.
It's the new choreographer, Chase Brock.  My Office Coordinator, Michelle, left on a train in the middle of night (sounds mysterious, doesn't it?) to travel up to NYC to see her nephew's handiwork as "Spiderman: Turn Off the Dark" re-opens after a 3-week hiatus.
Chase, originally from Flat Rock, was the one called in to rework the choreography of the $70 million musical after the show suffered several injuries and negative reviews.  The musical has reportedly been completely revamped to the point where it has been called "almost a brand-new show."
Expected to attend the re-opening night are President Bill Clinton, Leonardo DiCaprio, Liam Neeson, Vanessa Redgrave, Spike Lee, Christy Turlington, Diane Von Furstenberg and Barry Diller, Lou Reed, Cindy Crawford, Lord Andrew Lloyd Webber, Joanne Woodward, John McEnroe, Jann Wenner, Lesley Stahl, Amy Irving, Marco Antonio Solis and Harry Belafonte.
Cue suspenseful music!  Break a leg, Chase!