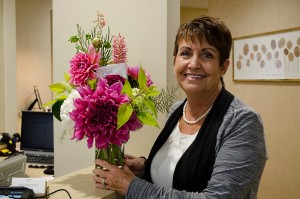 It seems that just about every week this summer (and now fall!) that I am introducing our practice friends and family to someone new.  Well, there's no revolving door here at Gillespie, DMD, but we have had some ch-ch-ch-ch-changes this year, what with Darlene retiring, Belinda moving, Donna going part-time, and now, Michelle going part-time!
Our latest, greatest addition is Sue Parker, a 27-year veteran of the dental profession, from Savannah, Georgia.  Sue has essentially worked in only two dental offices in that time, so we feel pretty confident she'll be another one of our new long-timers.  She brings with her an extensive background in dentistry, and has slipped seamlessly into our office dynamic.
Sue loves animals—she has two dogs [Xoloitzcuintles (what?!), or, Mexican Hairless'] and two cats—rescues.  She also has two children and two grandchildren, whom she loves dearly.  Her husband is involved in real estate in Burnsville, and she enjoys travel and reading.  There you have it!  Sue says she loves people and seeing what dentistry can do to improve someone's life.  We think she'll fit right in!
Welcome to the practice, Sue!