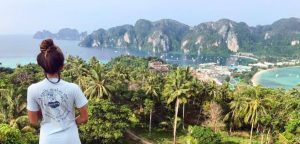 NEW YORK, JAPAN, THAILAND…Oh My!!!
Gillespie friends & staff are having a blast exploring our beautiful world this summer!  We've hung out with samurais in Japan, said "hello" to the Statue of Liberty, & climbed to new heights in Thailand!  Are you expanding your horizons this summer?  Bring us with you!  Let any staff in the office know and we'll give you a nifty "GILLESPIE GOES GLOBAL" t-shirt.  We'd love you to join our collage of beautiful places by posting a Facebook photo of you at your exotic destination wearing the t-shirt with the tag #GillepieGoesGlobal ! Local and national trips are just as welcome as the international ones!  Can't wait to see where your summer takes you!
June 21st marks the day when, with a little tilt of the Earth's semi-axis, the Earth leans a wee bit closer to the sun and ushers in … Summer! Yeah! Here are a few dental centered tips you can chew on while you're soaking up the sun!
Cover those lips! We all know to use sunscreen to protect any exposed skin we might be flashing while outside, but how good are you at protecting your lips? Cancers of the lip can be just as dangerous as any other type of cancer. So, polish up your lips with SPF this summer and be safe!
Don't sip all day long: With the summer heat you're going to want to stay hydrated, and water is your best friend. But, if you're not the biggest fan of water, and prefer tea, juice, or sports drinks, try to refresh yourself in moderation. The constant sipping of those sugary beverages keeps your teeth bathed in cavity-inducing carbs. So, rinse with water in between sips if you can, or at least follow up a sweet beverage with plain water. You'll avoid the sugar and acid bath that juices, teas and sports drinks bring along.
Fire up the grill: Meats and vegetables cooked gently over the fire not only smell terrific, but are great for your teeth as well. Meats and vegetables help to re-mineralize your teeth and aid in the support of healthy bones.
Summer will be over before you know it, so get outside, enjoy the sun, and have fun!!!  
WONDERING WHAT OTHER SHENANIGANS OUR OFFICE IS UP TO?
FRIEND US ON FACEBOOK AT
Timothy E. Gillespie, DMD !