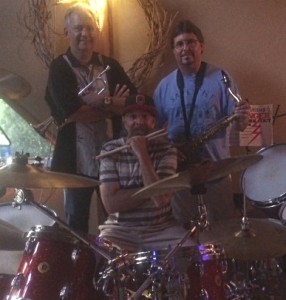 It's great to have hobbies, don't you think?  Not only do they allow us to access and explore areas of personal interest in our free time, but can form the basis for self-expression outside the workplace as well.  Such is the case with my trumpet.
For five years, I played in a 9-piece band with a group of friends; we called ourselves "The Vinyl Brothers Big Band."  With three other horn players in the band, we gravitated towards soul, funk, and any other songs that had an array of horns in the arrangement—we had a ball!  The group has since gone on hiatus, with the hope that we will reconvene at some future date.  Maybe a reunion tour will be in order…
Soon after we put the Vinyl Brothers on the shelf, I got a call from a friend of mine asking if the horns would like to play with his band, a Lynyrd Skynyrd tribute band featuring Skynyrd drummer, Artimus Pyle.  Of course, we would!
I can hardly describe how much fun it's been playing the horn lines behind some classic rock tunes with friends, and tomorrow night, I get to do it again.  My friend, Mike Crook, will join me on tenor sax, and we will attempt to form a dynamic horn duo behind some really good musicians who have worked very hard to preserve the sound and feel of one of America's great rock bands.
Thanks, Scott Raines, Jerry Lyda, Brad Durden, Tony Black, and of course, Artimus Pyle, for letting us live out our rock n' roll fantasy!