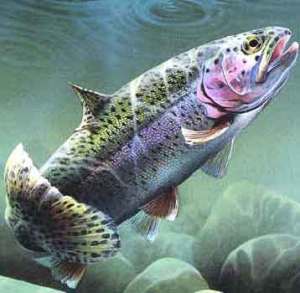 As I crept back into the water—the same place I place I had my knock-the-rust-off instructional lesson just a week ago—I silently remarked to myself how devoid of fish the stream looked.
To the most casual observer, it was a beautiful stream:  a happily babbling brook, 8 – 12 inches in its deepest recesses, with smooth moss-covered rocks and a pretty canopy of old eastern woodland hardwoods shielding the water below from much of the warming effect of the sun—yet allowing just enough sunlight through to create that surreal forest-in-the-early-morning-light effect.  But empty, nonetheless.  Well, except for the five anglers stationed about every 20 yards above and below me.
I had already tied on my flies the night before—a nymph/dropper nymph combo that didn't quite match the sleekness of my instructor's setup a week ago (mine reminded me more of one of those "redneck" contraptions where, for instance, a guy has made a car out of a bathtub)—so I could get right with it once I got to the stream.
And so, there I stood, looking at the stream, wondering what to do next.
After I stood there for a minute, mouth slightly agape and a blank look on my face, spending too much time checking out the other anglers considering the time I had available, I saw them:  A flash of silver here, a quick dart there.  Trout—a streamful of them, voraciously foraging for food before the water warmed up too much and quelled their appetites.
It was then I realized that I and the other anglers were actually prospectors, having staked our claims—we wouldn't be moving and would all probably be out of the water by 9:30am—and were now panning for piscine gold.  And with that in mind, I slowly slipped into that zone where nothing existed except for me, my cast, and the trout lurking beneath the surface of stream—my personal version of A River Runs Through It or that scene in The Legend of Bagger Vance where Matt Damon "sees the field" and hits that incredible drive.
During my brief time on the stream, I hooked two good-sized trout, but failed to land them, due to the fish pulling the fly off the line.  By the time I figured out that my midges—larger than what my instructor used last week—were attracting fish larger than my very small line could handle, it was time to go.  But before I left, I mentally alerted the fish to not get too comfortable, that I would be back real soon.
And so, for now, I'm obsessed with a small section of a small stream.  I won't be moving on until I've landed a decent trout—struck gold—from my claim.  My fellow Friday morning prospectors seem to be oblivious to my claim and my mission.  They're already in the zone.