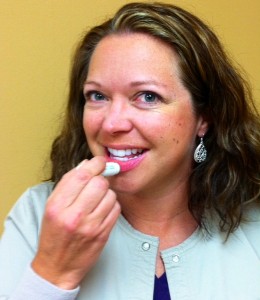 She's back! Hygienist and the Official 2014 Chapstick Model for our office, Donna Barnhart is back from maternity leave! Feeling that motherly tug to spend time with her newborn, Chase, and older brother, Cooper, Donna will be working a three-day workweek with us until sometime in the not-too-distant future when the kiddies head off to grade school. For now, we love having her back part-time and knew her many fans would want to know she has rejoined the pack!
Donna is showing off our always-in-demand mint chapstick. We wish we could say we developed this soothing, lightly minty stick from New Age botanicals in partnership with an enigmatic Gallic researcher in the south of France, but that would be untrue. Our supplier is an All-American group in Minnesota, but seems to understand the value in placing a high aloe content in a chapstick—no waxiness!
These sticks disappear quickly in Fall and Winter, so if you are overdue for a cleaning, call us for an appointment….and a chapstick!