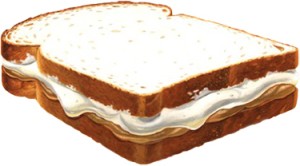 Admittedly, I interrupted the conversation after it had started, but when my assistant, a fellow Southerner, said the word, "Snutterfluffer," I just had to question her.
"Did you just say the word, 'Snutterfluffer?'", I asked, with a high degree of certainty that no other Southerner had ever uttered that word before.  "Yes," she said, "I did."  At which time my hygienist at the other end of the table, a Jersey Girl, started laughing and said, "No!  The word is "Fluffernutter."
"Did you just say the word, 'Fluffernutter?'", I asked, with a lessening degree of certainty in my own vocabulary.  "Yes," she said, "I did."  At which point everyone else at the table started laughing.  "Well, what in the world is 'Fluffernutter?'"
Fluffernutter, as it were, is comfort food popular in the Northeast, and is made by spreading peanut butter on a slice of white bread, then spreading an equal amount of Marshmallow Fluff on another slice…then eating it!
Well.  I've had mayonnaise sandwiches, ketchup sandwiches, honey sandwiches, Ranch Dressing sandwiches—even Cheetos sandwiches, for gosh sakes, but it never occurred to me to mix peanut butter with Marshmallow Fluff.  I thought its use was designated only for Moon Pies or as an additive in fudge.
At the behest of my hygienist, who gave me a jar of marshmallow crème, I tried it at home.  I didn't care for it.  Probably an acquired taste, like grits or peanuts in your Coke.  It's funny how different areas of the country tend to develop such interesting variations on common foods, isn't it?
Oh, well.  Although I won't be looking for another Fluffernutter sandwich anytime soon, the staff and I did share some fun lunchtime laughter—always a good thing—and in some small, quaint, silly way, I became just a little more worldly.