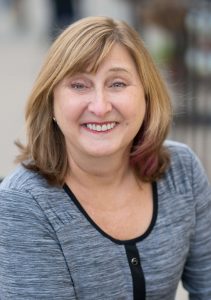 Here at Gillespie Dental Associates, we are very picky about who we bring onto our staff.  When looking for someone to add to our team, we take our time and seek out dental professionals who are the perfect mix of skill, intelligence, and empathy.  Dr. Virginia Plaisted has all of these qualities and more!  She is experienced, enthusiastic, and a great conversationalist to boot!   Dr. Plaisted received a Doctorate of Dental Surgery from Case Western Reserve University School of Dentistry in 1981 and a Fellowship in the Academy of General Dentistry in 2011.  In 2014, after practicing dentistry for over 30 years, she sold her practice and moved to Asheville, NC.  With her warm and thorough approach to dental care, Dr. Plaisted is a stellar addition to our practice!  Dr. Plaisted's family includes her husband, Grant, and four sons: Andrew, Adam, Alex, and Daniel.  We think she is also part fish!  She loves to travel to the Caribbean to scuba dive whenever she can and is an avid swimmer- keep an eye out for her doing laps in Biltmore Lake!  Welcome, Dr. Plaisted, we are thrilled to have you join our team!  
Brushing Technique is Important!
The way you brush can either improve or cause harm to your teeth and gums.  When brushing, make sure to use a soft bristled brush and brush lightly.  Tilt the brush at a 45-degree angle against the gum line and sweep or roll the brush away from the gum line.  This will effectively remove bacteria and avoid causing any unnecessary gum or enamel wear!
We are very proud of how our SMILE ADVANTAGE plan is helping patients without dental insurance!  SMILE ADVANTAGE is a membership based dental savings plan designed specifically for our patients here at Gillespie Dental Associates.  Members pay an annual fee to receive regular exams, cleanings and X-rays along with access to reduced rates on all other restorative and cosmetic dental procedures.  It provides reliable access to the care you deserve!  Please ask the front desk if you would like to know more!