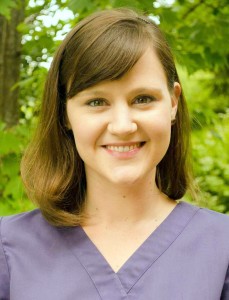 Our story begins in Wilson, NC, the BBQ capital of eastern NC,  with a precocious pastor's daughter who has developed some very strong opinions about BBQ (stay tuned, this may become a matter of contention later!).  Gradually going west, this young woman molds her interests in the arts and humanities into a degree in Art History with minors in Spanish and Studio Art from Wake Forest, and where she also meets the Demon Deacon of her dreams in art class, subsequently marrying him.
He carries her away, further west, where she alights briefly at WCU to attain a Master's in Teaching, and begins a career in education, teaching young children the rudiments of art, perhaps inspiring some to become artists themselves.  But, alas, there are storm clouds brewing on the horizon, and events occur in her profession which cause this youthful teacher to call into question her future prospects, ultimately leading her to cast off for other adventures.  Now, fast forward just a few years, and we arrive in the present, wherein a young Whitney Lanier has gained further education and licensure as a Registered Dental Hygienist and descends, very Mary Poppins-like, into my practice, with leftover glitter wafting about in her wake.
Whitney has called Asheville home since 2007 and states that she loves the rich arts community and being in such a beautiful place as WNC.  Some of her likes include Asheville's amazing art deco architecture; dinner with friends; traveling and photographing what she finds (recent destinations include Croatia, Colorado, and Highlands, NC); singing, but only in big groups (she's too shy to sing in front of people!); family reunions in Bryson City with her grandmother's siblings.
Her hobbies include hiking with her husband, Jay, and very energetic German Wirehair puppy, Sidney; photography (a new interest); painting; reading (Whitney relays that she is always reading more than one book at a time).  Favorites include: The Elegance of a Hedgehog by Muriel Barbery, The Mistborn Series by Brandon Sanderson, and Colum McCann's Let the Great World Spin.  A true Asheville cosmopolitan, her favorite weekend activities involve ambling around downtown, writing in coffee shops and gallery hopping.  Of special interest to our patients, Whitney loves learning about each patient and creating a nurturing atmosphere in the dental office.  I think we've found a wonderful addition to our office!
We're so happy to have Whitney in our practice family, and look forward to introducing her to all of our wonderful patients.  Thanks, Whitney, for making us a part of the next chapter of your life of interesting events!